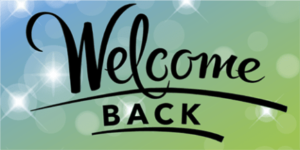 WELCOME BACK TO SUNDAY SERVICES!
In order to meet Stanislaus and state guidelines
we have instituted the following in order to safely
hold our Sunday services:
1. We take everyone's temperature at the entrance to the foyer.
2.

Everyone wears a mask

except those with health conditions, which preclude wearing one. We will provide masks for those who do not have one.
3.

Everyone will use hand sanitizer

on his or her hands before entering the sanctuary.
4. Worshippers will be ushered into seating and sit on the ends of the rows so that between families we can have six feet (four chairs).
5.

No congregating and visiting in the sanctuary or foyer

before or after church.

You will be ushered outside where you may talk with others while practicing social distancing and wearing a mask.
If you are in an at risk group we do not encourage you
to come to services at this time.
We look forward to seeing you there!